Happy Easter Sunday, folks! I'm excited to share my latest creation, a mouth-watering Raw Vegan Berry Cheesecake with a luscious chocolate ganache top, Cheesecake Factory's recipe. With a few tweaks, I'm thrilled with how it turned out. Let me show you how to make it.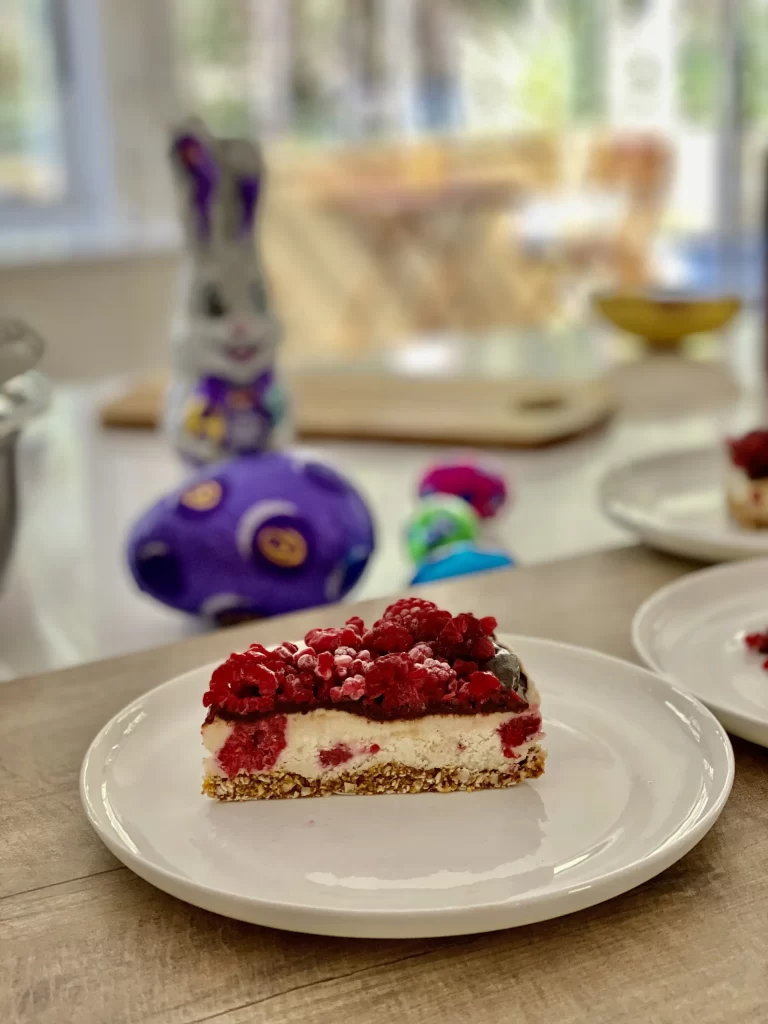 Introduction: A Delicious Raw Vegan Berry Cheesecake Recipe
Base Ingredients: Cheesecake Factory Inspired Recipe
1 cup dates, pitted
1 cup gluten-free oats – I like to use Bob's Red Mill-certified GF oats.
1/2 cup shredded coconut
Filling Ingredients: Creamy and Nutritious Raw Cashew and Raspberry Blend
2 1/2 cups raw cashews
1 punnet of fresh raspberries
1/3 cup maple syrup or raw honey
1/2 cup coconut cream
2 tablespoons lemon juice
2 tablespoons coconut oil
1 teaspoon vanilla extract
Chocolate Ganache: Indulgent and Vegan Topping
1 cup vegan dark chocolate
1/4 cup almond milk, or (I like to use rice milk) plus more if needed
1/2 cup fresh raspberries (this is for the topping so you can really add a mixed berry medley if. you prefer)
Method: Simple Steps to Make Your Own Raw Vegan Cheesecake
For the Base:
Soak cashews overnight in water or soak for at least 4 hours in warm water if you are in a hurry, then drain.
Soak dates in warm cold water for an hour or water for 10 minutes and rinse out.
Blend all base ingredients until combined. Line your springform pan with baking paper and press down until even and set it in the freezer while you make the filling.
To Make the Filling:
Blend the cashews, maple syrup, coconut cream, coconut oil, lemon juice, and vanilla until smooth, then add in raspberries and stir through with a spoon (do not blend the raspberries). Pour the filling on top of the base and set it in the freezer for 6 hours.
To Make the Chocolate Ganache:
Melt the chocolate gently over a double boiler on the stove.
Slowly add your milk choice and keep stirring until melted and smooth. Add more milk, if needed.
Pour the ganache on top of the cake and smooth over evenly with a spoon, add the raspberries, and place in the freezer to set overnight.
Serving Suggestions: Decorating and Final Touches
Remove the cake from the pan and let sit for about half an hour before cutting with a large sharp knife to the desired size priced. Decorate with a few more elements of your choice to fancy it up. You could use mint leaves to bring some greenery in, or even edible flowers and serve.
Note: Fresh Berries are Best for This Gluten Free Cheesecake Factory Recipe. I like to use fresh berries as this goes back into the freezer, so I'm not one to use frozen raspberries that are defrosted, then re-frozen again but I'm sure you can if you wanted to.
Don't miss out on our other recipe blogs, featuring a range of delectable and nutritious dishes perfect for those following a gluten-free lifestyle due to Celiac Disease. From breakfast to dessert, we've got you covered!
Remember to always stay curious and continue learning. Thank you for taking the time to read my post. Until next time…Jodes