I can't eat that anymore?
Discovering a life without gluten and that a simple diet switch is not what it seems.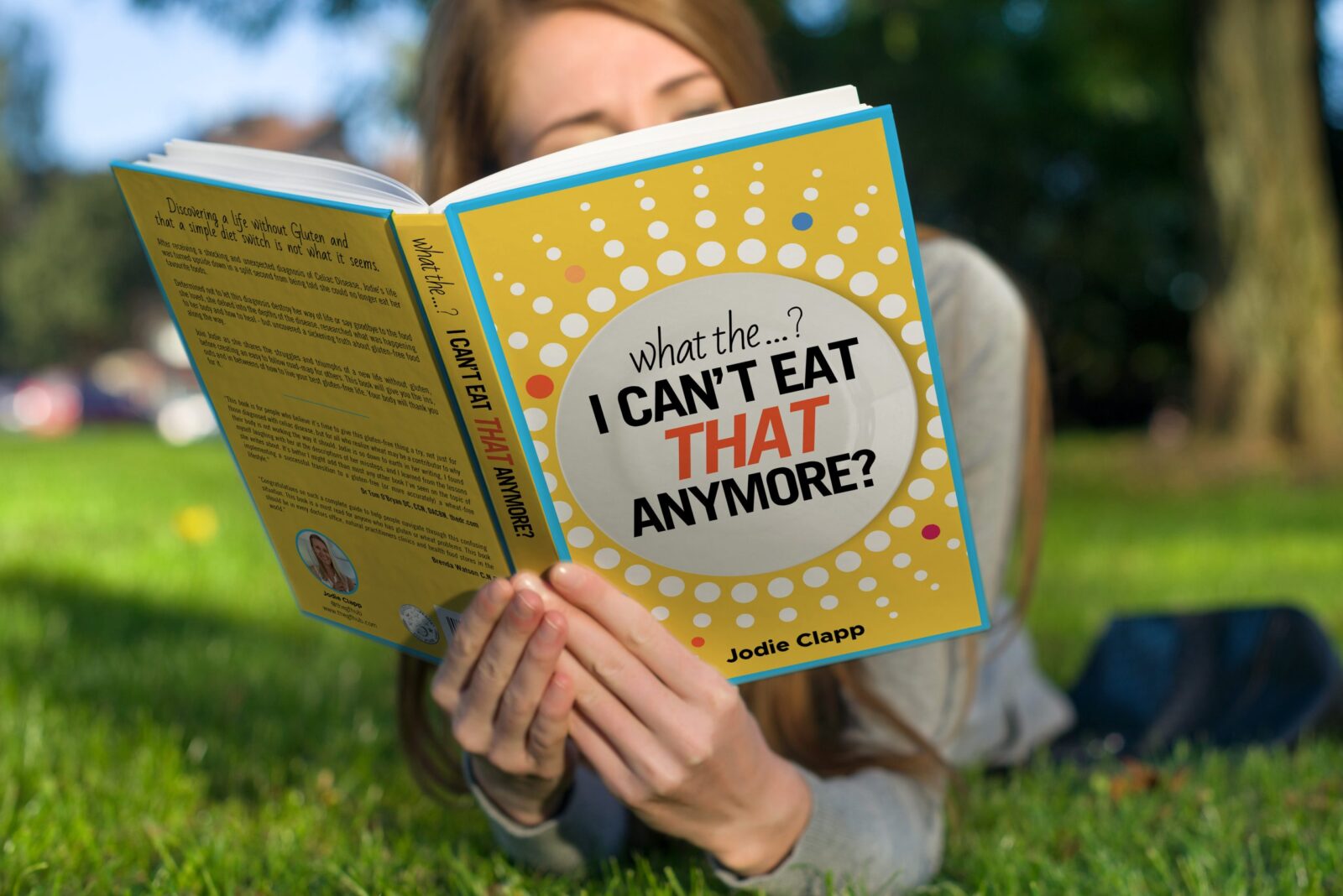 After receiving a shocking and unexpected diagnosis of Celiac Disease, Jodie's life was turned upside down in a split second from being told she could no longer eat her favorite foods.
Determined not to let this diagnosis destroy her way of life or say goodbye to the food she loved, she delved into the depths of the disease, researched what was happening to her body and how to heal – but uncovered a sickening truth about gluten-free food along the way.
Join Jodie as she shares the struggles and triumphs of a new life without gluten, before creating an easy to follow road-map for others. This book will give you the ins, outs and in betweens of how to live your best gluten-free life. Your body will thank you for it.
IN THIS BOOK YOU WILL:
Get a great understanding of how your digestive system works.
Learn about what Gluten is; where it came from; where it lurks in your food and where it's hidden.
Understand the difference between Celiac Disease, Gluten Sensitivity and Allergies.
Learn about how Celiac Disease affects your body; why some people have Celiac Disease over others and what makes
up a diagnosis.
Discover what Leaky Gut and Inflammation is all about and how it affects you.
Decipher how to read labels and how to spot Gluten and it's alternative names.
Delve deeper into how starches and additives in GF foods affect the body.
Find out how to spot healthy gluten-free products.
Open up a chest of survival tools for your new world of gluten-free living.
Understand that you can still travel overseas
Learn what I did to heal my body through food, exercise, supplements and sun.
Know you are not alone on this emotional roller coaster.
Hear what other Celiacs and Gluten Sensitive people have to say.
Get access to a full set of resources to help you on your journey.
Dr Tom O'Bryan DC, CCN, DACBN. thedr.com
This book is for people who believe it's time to give this gluten-free thing a try, not just for those diagnosed with celiac disease, but for all who realize wheat may be a contributor to why their body is not working the way it should. Jodie is so down to earth in her writing, I found myself laughing with her at the descriptions of her missteps, and I learned from the lessons she writes about. It's better I might add than most any other book I've seen on the topic of implementing a successful transition to a gluten-free (or more accurately) a wheat-free lifestyle.
Brenda Watson C.N.C
Congratulations on such a complete guide to help people navigate through this confusing situation. This book is a must-read for anyone who has gluten or wheat problems. This book should be in every doctor's office, natural practitioners clinics and health food stores in the world.    
Reviews From 'Readers Favorite.com'
Asher Syed
What The…? I Can't Eat THAT Anymore? by Jodie Clapp is a non-fiction guide for those who are unexpectedly facing a future that is free of gluten. Based on many years of research following her own shocking diagnosis, Clapp pulls together a comprehensive roadmap of information spread out over nineteen chapters. These run the full gamut and begin with Clapp's personal journey and history as a foodie, pushing forward to the three-year hunt for a diagnosis and onward to the anatomy of digestion, the trillions who share gluten sensitivities, and the science behind it. She then coaches readers on broader issues that include the deceptive marketing of gluten-free products and what to avoid in a food branch you should be able to trust, travel, and the routine that ultimately worked in the way she needed it to from the start.
Jodie Clapp stands out in a field of ridiculously pretentious gluten self-help books with What The…? I Can't Eat THAT Anymore? Clapp is, as my wife would say, a diamond among turds (bad pun regretfully intended). Aside from being informative and simplified to a point where the knowledge conveyed is understandable to those of us who usually find ourselves sinking in a sea of words, Clapp is relatable and really, really funny. The artwork scattered throughout highlights what she's delivering with visuals and she backs her data up with legitimate references and reputable links to finding them. The entire middle section on food labelling is as enlightening as it is completely terrifying as readers are taught to navigate through a virtual minefield of unhealthy alternative ingredients. Thankfully, the Mexican corn flour called masa made it onto the good list, as did a rather intriguing green banana flour that has the added benefit of increased serotonin production. There's no question that Clapp is an authority on all things gluten and this is an easy book to recommend even if you're just looking for a healthier way to live.
Kristy Volchko
What the…? I Can't Eat THAT Anymore? (Discovering a life without gluten and why a simple diet switch is not what it seems?) by Jodie Clapp is a thought-provoking, informative, and downright hilarious perspective of one woman's journey to wellness and the numerous challenges those with (undiagnosed and diagnosed) Celiac Disease face. Delivered with raw honesty and humor, Clapp shares her own experiences and knowledge so that others may find their way back to optimum wellness with a clear understanding of what to expect when taking control of one's health once and for all. This straightforward, in-depth book covers a great deal about the disease process, helps the reader through or into a new gluten-free lifestyle, and gives a detailed account of what it's like for so many who suddenly find themselves asking the question, "What the…? I can't eat THAT anymore?"
What the…? I Can't Eat THAT Anymore? by Jodie Clapp had me in stitches! I loved the illustrations! This book is a must-read for anyone who is not feeling their best or suffering from a myriad of health issues they can't seem to find a reason for. Many problems such as migraines, autoimmune disease, respiratory issues, ADHD, insomnia, etc. have been linked to wheat and gluten and I truly believe that everyone can benefit from a gluten-free diet whether you've been diagnosed with Celiac Disease or not. One thing I know for sure is, if the gut isn't in optimal condition, neither are your other body systems. The author is extremely well-informed and touched on many topics and I learned a ton of new information that I'll be incorporating into my own life. I applaud her for sharing her experiences to help others find their healing path as well. I can't think of anything more awesome than that. Five stars!
Emily-Jane Hills Orford
Can you get high from eating bread? Do you get "a form of mild euphoria every time you eat bread?" Did you know that "this exorphin effect of wheat on the brain can be blocked if you take opiate-blocking drugs or stop eating wheat?" It certainly makes sense considering the growing passion for bread is addictive. And, sadly, it's harmful to one's health, too. Bread has been a staple of the human diet for so long that we have it ingrained in our psyche that it's an essential food. It even finds a prominent place on most national healthy food guides, the "eat well stay well" plan to a healthy lifestyle. So the powers that be, the health experts, and the medical professionals, all believe that grains (which include gluten) are essential to a healthy diet. We're being brainwashed to believe we must eat wheat. But, for a growing percent of the population, eating wheat can be deadly.
Author Jodie Clapp's iron levels were falling annually at an alarming rate. With little encouragement from the medical professionals, she sought advice from a specialist and finally learned the verdict. She had celiac disease. In fact, her digestive system was shutting down so fast, it was no longer absorbing the important nutrients her body needed. She had to change her diet, remove gluten permanently, or face even worse diseases in the future. Her journey to a healthier lifestyle was difficult, to say the least. But she learned a lot. She's not a health professional or a medical expert, but sometimes learning what we need to learn to survive gives us more knowledge than those who are trained to treat multiple ailments. "What the…? I can't eat THAT anymore? Discovering a life without gluten and why a simple diet switch is not what it seems?" is Jodie's dietary memoir. Complete with detailed explanations of the dietary tract and how foods are digested, and a history of eating trends, this book covers a lot of interesting and useful information on gluten and celiac disease.
An interesting comment sums up the author's approach to understanding this disease that is affecting more and more people every year: "It is my belief and opinion that selected breeding, hybridization, modification, chemicalization, and a down-right stuffing up of the food system (combined with lack of physical movement) is why we are getting fatter, sicker, and more diseased." The last section shares comments from celiacs around the world and how others are coping with this disease. A thorough and concise guide to understanding one's digestive system, with particular emphasis on those who suffer from celiac disease.